2019 Chevrolet Corvette Long Beach CA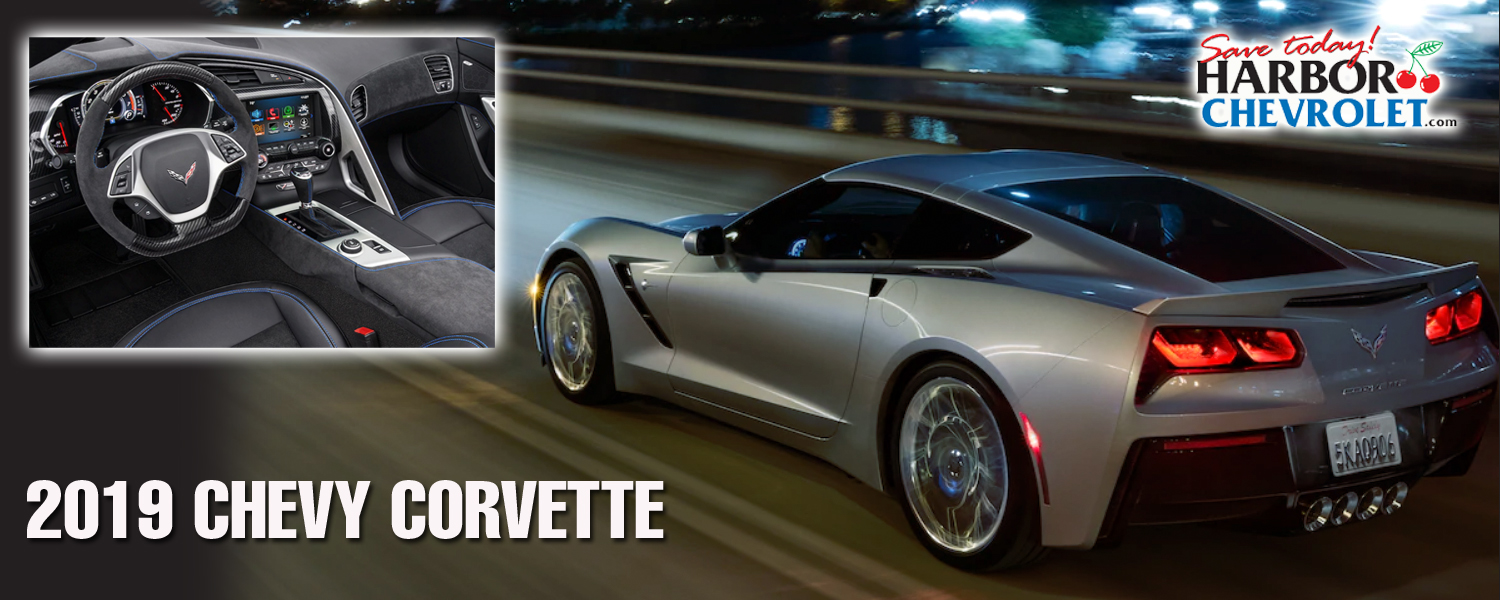 Harbor Chevrolet
Live Life in the Fast Lane With the New 2019 Chevrolet Corvette
It's time to dominate the streets of Long Beach, CA in your very own 2019 Chevrolet Corvette. Are you ready?
There's nothing quite like the Chevrolet Corvette: a sharp and sporty vehicle that booms with personality and power as it conquers the road in front of it. If you've always dreamed of being behind the wheel of a Corvette, there's no better time than the present and no better dealership to work with than Harbor Chevrolet. Visit us in Long Beach, California and soon you'll be turning heads in your Corvette on the highway and beyond.

Drive Powerfully
The base model 2019 Chevrolet Corvette provides you with an LT1 V8 engine with 460 HP and 465lbs of torque all the way up to a monstrous LT5 V8 engine producing a staggering 755 HP and 715lbs of torque, so really, either way, you choose you'll be a powerful driving beast on the road. Plus five selectable drive modes will give you the control to guide yourself through any conditions Mother Nature puts in front of you. The road up ahead is truly no match for the strength your 2019 Chevy Corvette provides.
Have A Roaring Good Time
You're going to have fun while driving the 2019 Chevrolet Corvette, there's no doubt about that but what makes it a really good time is the fact that you can sit back and relax because the Corvette is loaded with appropriate safety features to make you feel at ease. A standard light aluminum provides additional strength and safety to the cockpit while available automatic crash response means in the unlikely case of an accident, help will be able to respond immediately to any incident and provide what is needed.
Elevated Looks
Know that every time you're behind the wheel of the 2019 Chevy Corvette, you'll be experiencing a very special ride. The cockpit of your new Corvette is designed specifically for you to feel like you're in the latest and greatest Corvette on the road with unlimited power and speedy style. You'll also be enveloped by tough carbon fiber adorned interior, which only adds to the overall look and feel of your Corvette's cabin. Digital dashboard displays a touch screen for easy use so you can stay focused on the road. Take advantage of the option to add available Android Auto and Apple Play with built-in LTE 4G Wi-Fi so that you can rock the tunes as you venture throughout your journey.
Your 2019 Corvette Is Waiting Just Around The Corner
We are excited to get you into your brand new 2019 Chevy Corvette and back to hitting the asphalt whether on your daily commute, a zip around the neighborhood or across state lines. We know as soon as you lay your eye on this gem of an automobile, you'll fall in love. Come see the Corvette Monday through Sunday at our sales department and our experienced team will be happy to show off everything Chevy beast can do. Harbor Chevrolet wants to give you the best shopping trip possible and our goal is to earn your business for many years to come. We look forward to meeting and working with you soon.
Experience The Harbor Chevrolet Difference
At Harbor Chevrolet, we are dedicated to taking care of all your vehicle needs including sales, service, parts and beyond. We are a team of dedicated Chevrolet experts who know the 2019 Chevrolet Corvette inside and out. Our dealership is located in the Long Beach, California community right next to the airport - so it's convenient and easy to get to. We take pride in each and every customer interaction we have and know the value of superior customer service. Do business with us and soon you'll see exactly why we're the number one Chevrolet dealership in Long Beach.

Sales Hours
866-973-0316
| | |
| --- | --- |
| Monday | 9:00 am - 8:00 pm |
| Tuesday | 9:00 am - 8:00 pm |
| Wednesday | 9:00 am - 8:00 pm |
| Thursday | 9:00 am - 8:00 pm |
| Friday | 9:00 am - 8:00 pm |
| Saturday | 9:00 am - 7:00 pm |
| Sunday | 10:00 am - 6:00 pm |
Why Buy Harbor Chevrolet?
From quality Chevrolet vehicles to quality customer service, we offer you nothing but the best here at Harbor Chevrolet in Long Beach CA.
We understand that shopping for a vehicle can be a tedious process with a number of choices that you have to make that you may have never been faced with before. Well when you shop with us you don't have to worry about the hassling and haggling you might find elsewhere, because our team is purely focused on YOU, the customer.
Can't decide between new or used, to buy or lease? The decision is yours and we're here to help you with whichever choice and vehicle you decide to roll with. We want you to feel at home in our Chevy showroom and to never feel pressured which is why work so diligently to help you secure the financing options you need so you can get behind the wheel of the vehicle that you truly desire to be in. Whether you're shopping with us online, over the phone or in person we guarantee we can find a driving solution for you and yours.
From sales to financing and service, our state-of-the-art facility and All-Star staff are well-equipped to handle all of your vehicular needs. Come out to Harbor Chevrolet today and discover how much our team and your new Chevy Corvette can do for you.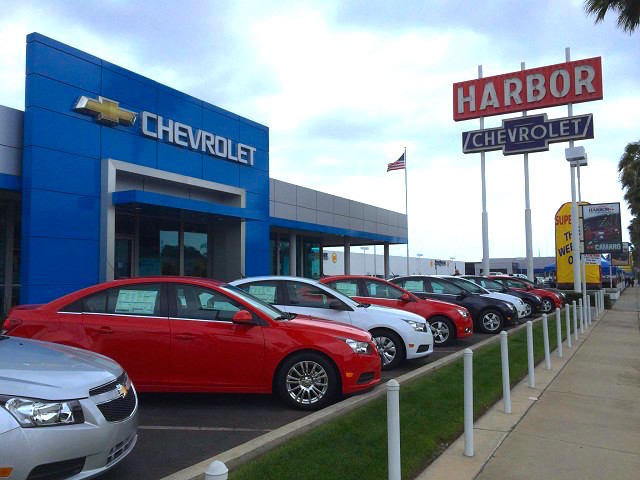 Testimonials
Customer Testimonial
Inglewood, CA
12-6-2014
Customer Testimonial
Long Beach, CA
12-5-2014
Customer Testimonial
Long Beach, CA
12-4-2014
Customer Testimonial
South El Monte, CA
12-2-2014
Customer Testimonial
San Diego, CA
11-10-2014
Customer Testimonial
Long Beach, CA
11-4-2014
Customer Testimonial
Long Beach, CA
10-30-2014
Customer Testimonial
Los Angeles, CA
10-28-2014
Customer Testimonial
Temecula, CA
10-27-2014
Customer Testimonial
321 Long Beach, CA
10-23-2014
Read More