2019 Chevrolet Silverado 1500 Long Beach CA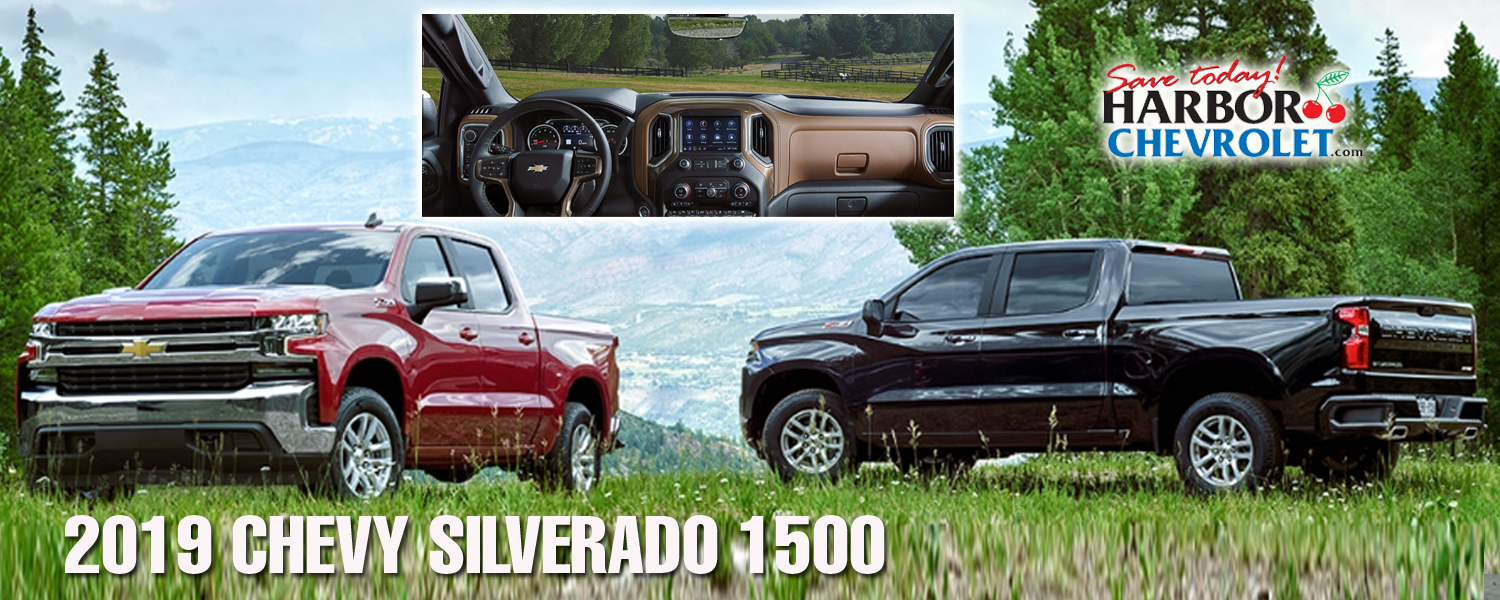 More for you in the Silverado
You want your truck to be capable and built tough, but you don't want it to be a vehicle that causes you to have a harsh ride. The 2019 Chevrolet Silverado 1500 is a truck that brings you the comfort you want in the cabin and the capability you need at the job site. Let our team at Harbor Chevrolet show you how this can be the right truck for you in Long Beach, CA.
Choices that Make Sense in the Silverado
When you make your way to our dealership lot, you're going to see a wide range of truck to choose from. Do you want a truck with a diesel engine? Do you want a crew cab or a regular cab? How long do you want the bed to be? Are you looking for 4WD to be part of the package? Our team can help you figure out which version of the Chevrolet Silverado 1500 will be the right choice for you. It's time to take a test drive and see what this truck has to offer so that you can get things done at your jobsite.
More from the New Model
Chevrolet has upgraded the 2019 Chevrolet 1500 to build it on a brand-new platform that is longer and lighter than it was in the past. This change allows you to have an even more capable truck than in the past, more space in the cabin, improved fuel mileage, and more room in the bed. There are now new engine and transmission combinations along with new towing technology and advanced safety features to make this the truck that you'll want to drive. Ask our team at Harbor Chevrolet about this truck and learn more that will make the Silverado the right choice for you.

Are You Hauling a Trailer with Your Chevrolet?
If your job in the Long Beach, CA area requires you to tow a trailer from jobsite to jobsite, you'll love the new trailer and towing technology offered in the Silverado. This new tech allows you to store up to five trailer profiles, monitor the tire pressure of the trailer tires, test the trailer lights by yourself, and offers you a rear camera that can show you what's behind the trailer. These items can make the job of moving the trailer from place to place much easier for you.
Check out Our Sweet Deals
You're going to find the right Silverado 1500 to drive at our dealership and be able to leave with the truck that you know will give you the capability you need. In addition to the truck you want, we offer you the deal that makes sense for you. As the "home of the sweet deal" you'll never have to wonder if you've gotten the best deal with our team. Come in and visit with us at Harbor Chevrolet and take the truck home that will give you everything you need in Long Beach, CA today.

Why Buy Harbor Chevrolet?
From quality Chevrolet vehicles to quality customer service, we offer you nothing but the best here at Harbor Chevrolet near Long Beach, CA.
We understand that shopping for a vehicle can be a tedious process with a number of choices that you have to make that you may have never been faced with before. Well when you shop with us you don't have to worry about the hassling and haggling you might find elsewhere, because our team is purely focused on YOU, the customer.
Can't decide between new or used, to buy or lease? The decision is yours and we're here to help you with whichever choice and vehicle you decide to roll with. We want you to feel at home in our Chevy showroom and to never feel pressured which is why we work so diligently to help you secure the financing options you need so you can get behind the wheel of the vehicle that you truly desire to be in. Whether you're shopping with us online, over the phone or in person we guarantee we can find a driving solution for you and yours.
From sales to financing and service, our state-of-the-art facility and All-Star staff are well-equipped to handle all of your vehicular needs. Come out to Harbor Chevrolet today and discover how much our team and your new Chevy Silverado 1500 can do for you.