2020 Chevrolet Colorado Long Beach CA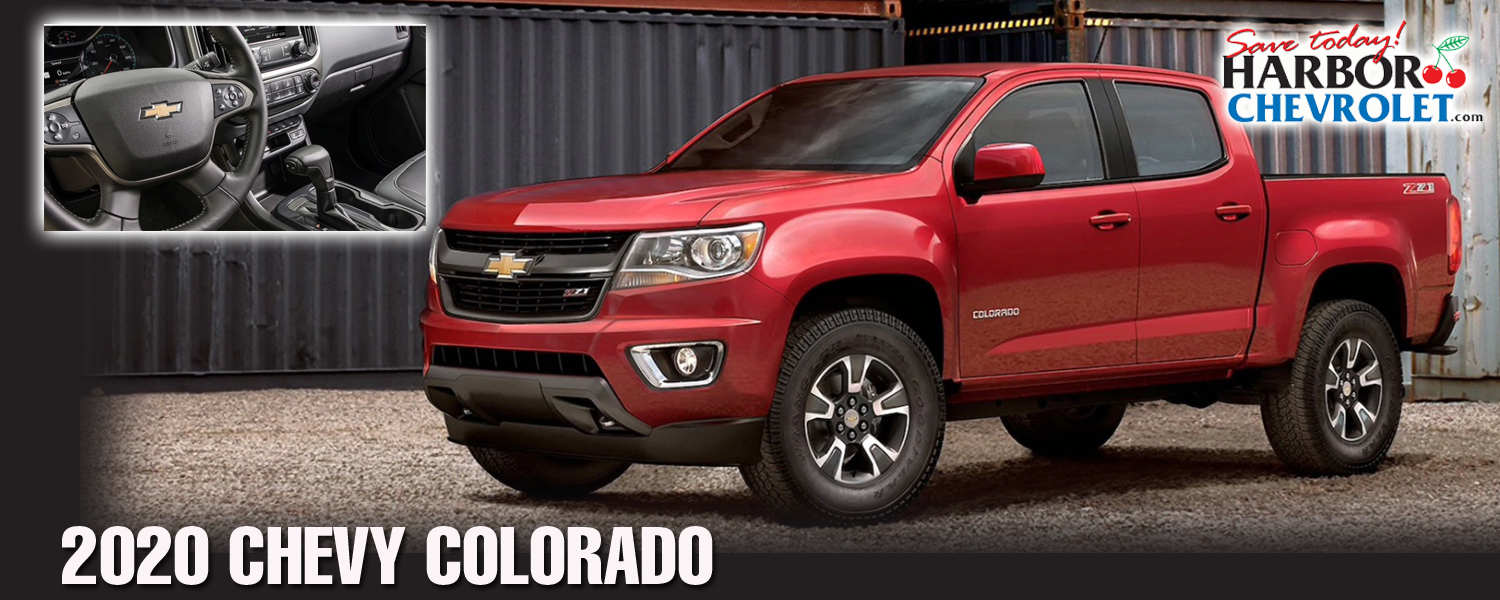 Mid-Size 2020 Chevy Colorado Delivers Full-Size Performance
The 2020 Chevrolet Colorado will exceed all your expectations of what a pickup truck can accomplish. Take on the Long Beach, CA street with heat under your tires when you venture to the next destination in the Chevy Colorado.
Truckin' Around
The 2020 Chevrolet Colorado is up to any task you put in front of it and takes it all in stride. With an available max towing of 7,700 lbs nothing at the job site will be a match for your Colorado pickup. Add an available max payload of up to 1,578 lbs and your 2020 Colorado steps up to the plate to take care of the largest loads. This Chevy also exceeds in terms of carbo space with a max of 49.9 cubic feet available to haul the goods all over Long Beach, CA.
Safe and Reliable
The brand-new 2020 Chevrolet Colorado has tons of safety features and options so that you can feel maximum protection on all your travels around Long Beach, CA. This Chevy pickup was built with power in mind and boasts a high-strength steel frame and offering an array of airbags throughout the interior cabin. Standard rear vision camera and available forward collision alert both make sure you're taken care of in the front and the back of your truck.
Upgraded Technology
You'll be receiving the latest and greatest technology that Chevrolet has to offer when you choose to embrace the all-new 2020 Chevrolet Colorado truck. Have fun while you work with all the elevated tech elements that can be found throughout the Colorado. This 2020 Chevy boasts an Infotainment 3 System which gives you all the needed information at your fingertips. You'll also be able to plug into available Apple CarPlay or Android Auto and let the good times roll with even better music.

You're Always in Luck at Harbor Hyundai
The team at Harbor Hyundai is here to be your good luck charm in finding your next vehicle! We have plenty of 2020 Chevrolet Colorado vehicles in stock and would be honored to help you find the perfect one for all life's needs. Harbor Chevrolet is the #1 Chevrolet Dealer in the Long Beach, CA area and we have been family owned and operated for over 90 years. With that much experience, we know how to work with your unique needs and budget plus deliver on superior customer service. We are committed to offering the best vehicle experiences anywhere in the Long Beach, CA area and we look forward to meeting with you soon.
Chevy Colorado Is the Pickup Truck for You
Choose the Chevrolet Colorado and you'll always be looking forward to the next time you're on the road. The team at Harbor Chevrolet has a large selection of 2020 Chevrolet Colorado mid-size pickup trucks in stock now and would love to show you everything it can do. Work with a team that knows how to serve the community and choose Harbor Hyundai.

Why Buy Harbor Chevrolet?
From quality Chevrolet vehicles to quality customer service, we offer you nothing but the best here at Harbor Chevrolet near Long Beach, CA.
We understand that shopping for a vehicle can be a tedious process with a number of choices that you have to make that you may have never been faced with before. Well when you shop with us you don't have to worry about the hassling and haggling you might find elsewhere, because our team is purely focused on YOU, the customer.
Can't decide between new or used, to buy or lease? The decision is yours and we're here to help you with whichever choice and vehicle you decide to roll with. We want you to feel at home in our Chevy showroom and to never feel pressured which is why we work so diligently to help you secure the financing options you need so you can get behind the wheel of the vehicle that you truly desire to be in. Whether you're shopping with us online, over the phone or in person we guarantee we can find a driving solution for you and yours.
From sales to financing and service, our state-of-the-art facility and All-Star staff are well-equipped to handle all of your vehicular needs. Come out to Harbor Chevrolet today and discover how much our team and your new 2020 Chevy Colorado can do for you.