2020 Chevrolet Traverse Long Beach CA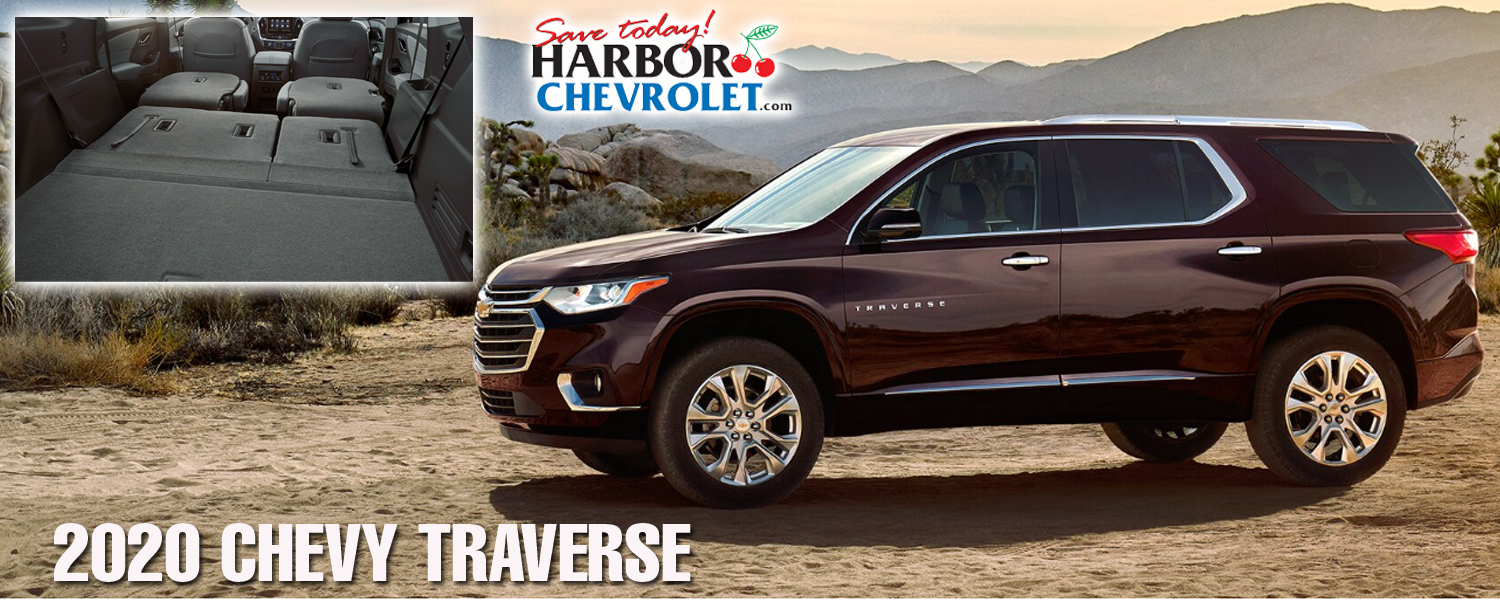 Sharp and Spacious Mid-Size SUV
Mid-Size SUVs are wonderful family vehicles for many reasons, but the perfect balance of function and style might be our favorite. Don't wait until 2020 to get the SUV that you've been longing for. Come by Harbor Chevrolet and check out our impressive selection of 2020 Chevrolet Traverse vehicles near Long Beach CA.
Next-Level Safety
When designing the new Chevrolet Traverse, there were no shortcuts made when it comes to safety. You'll take every turn with more confidence knowing that this SUV is stacked with active safety features. Automatic braking, high-definition cameras, and collision alert all work together to ensure that no matter where you're going, you'll get there safe and sound.
Space and Features for the Whole Family
If you've ever found yourself wishing for just a little more space or an extra seat, the new Chevy Traverse is here to answer your wishes. With a third row that takes the total capacity up to eight passengers, space will never again be a worry. This SUV has enough room for your beach gear, the whole family, and more. To learn more about how to optimize up to 98.2 cu. ft. of cargo space for your lifestyle, give us a call and chat with one of our Chevrolet experts.

Get a Steal of a Deal
As one of the largest auto dealers in the area, we're able to secure great deals on even better vehicles. Because of our high volume of inventory, we're excited to be able to pass the savings onto our customers. At Harbor Chevrolet, our financing team is built up of experts who are here to serve. Whether it's your first time securing a vehicle loan or you've been in the market for ages, working with our friendly & professional team is a sure way to get exactly the terms that you need. Email us to schedule your no-obligation appointment.
Enjoy the Experience
Shopping for a new vehicle should be a seamless experience, from the first time you search online to the day that you drive home in your new SUV. With a website that's open 24 hours a day, you can shop our inventory at your convenience until you find something that catches your eye. Once you've found the one or if browsing the lot in person is more appealing than searching online, you can come to visit us in Long Beach seven days a week. We look forward to serving you!

Why Buy Harbor Chevrolet?
From quality Chevrolet vehicles to quality customer service, we offer you nothing but the best here at Harbor Chevrolet near Long Beach CA.
We understand that shopping for a vehicle can be a tedious process with a number of choices that you have to make that you may have never been faced with before. Well when you shop with us you don't have to worry about the hassling and haggling you might find elsewhere, because our team is purely focused on YOU, the customer.
Can't decide between new or used, to buy or lease? The decision is yours and we're here to help you with whichever choice and vehicle you decide to roll with. We want you to feel at home in our Chevy showroom and to never feel pressured which is why we work so diligently to help you secure the financing options you need so you can get behind the wheel of the vehicle that you truly desire to be in. Whether you're shopping with us online, over the phone or in person we guarantee we can find a driving solution for you and yours.
From sales to financing and service, our state-of-the-art facility and All-Star staff are well-equipped to handle all of your vehicular needs. Come out to Harbor Chevrolet today and discover how much our team and your new Chevy Traverse can do for you.