Certified Service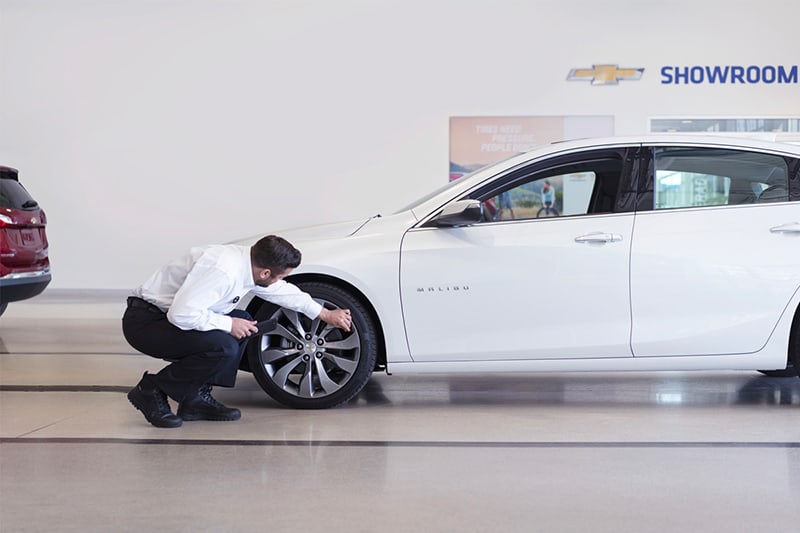 Service Offers and Pricing
We offer competitive prices on popular vehicle services such as oil changes, brakes, and tires.
Maintenance
Need New Tires?
Your vehicle's tires are the first and only contact with the road, so it is important to choose the right set when replacing them. Harbor Chevrolet has Certified Service experts that will handle all of your tire needs. From checking tire wear to tire pressure our team can help you find new tires for your vehicle.
Find Tires
Need An Oil Change Near Long Beach?
Your vehicle may be trying to tell you something – Oil Life Monitoring Systems let you know when it's time for an oil change. And our Certified Service experts can recommend what's best for your vehicle. Schedule an appointment today.
Learn More
Harbor Chevrolet: Your Trusted Source for Car Repair and Maintenance in Long Beach, CA
If you're like other Cerritos driving enthusiasts, your car is your life. When it's time to schedule car repair and maintenance in Long Beach, you shouldn't have to settle for anything less than the best. That's where the Harbor Chevrolet service center comes in.
From tire rotations to engine repairs, you can count on our Chevrolet experts to have you back on the road in no time. We are dedicated to providing you with a straightforward and honest service experience and will never try to sell you items or services you don't need. Schedule car maintenance in Long Beach today and don't hesitate to reach out if you have any questions!
Importance of Car Maintenance in Long Beach
We get it. Your schedule is busy as it is, and finding the time (and money) for car maintenance can be a stressful endeavor. But if you want to avoid unnecessary stress and costly repair bills in the future, preventative car maintenance is an absolute must. Not only does regular car maintenance in Long Beach ensure your vehicle is running safely and smoothly, but it also ensures a higher resale value if you plan to sell someday. And with our rotation selection of service specials, you can keep your vehicle running like new for years to come—without draining your bank account. What's not to love?
Our Car Repair and Maintenance Services
Harbor Chevrolet is your one-stop shop for all things car repair and maintenance in Long Beach. For years, we have provided drivers from Lakewood to Bellflower with the following expert car repair and maintenance services:
Oil changes
Tire rotations
Wheel alignments
Air filter replacements
Wiper blade replacements
Brake inspections and repairs
AC inspections and repairs
Battery replacements
And Much More!
Schedule Car Maintenance in Long Beach Today!
When it's time to schedule car maintenance in Long Beach, don't hesitate to turn to the experts at Harbor Chevrolet. We look forward to showing you how straightforward and painless car maintenance can be. Schedule your appointment today!
Multi-Point Vehicle Inspection
With your Multi-Point Vehicle Inspection, you get a thorough assessment of your vehicle by the Certified Service experts. So protect yourself and your automotive investment with a comprehensive vehicle inspection at your Harbor Chevrolet Dealer today.
The Multi-Point Vehicle Inspection form uses a simple color-coded key to assess maintenance terms:
Red indicates items that need immediate attention.
Yellow indicates items that should be addressed in the near future.
Green indicates no items to address.
Hearing Brake Noise?
Stopping power is crucial to a safe and successful driving experience. When you need brake service, visit Harbor Chevrolet and our GM Certified Service experts will recommend quality new brakes.
Learn More
Battery Trouble?
Your vehicle's battery provides energy to start the engine, plus it supplies power to accessories when the engine is not running. The cold of winter and the heat of summer can affect your auto battery. See us for your vehicle's battery needs.
Learn More
Contact Service
Service: 562-206-1125
Parts: 562-548-1810
3770 Cherry Ave, Long Beach, CA 90807